Grazey Pasture is the 6th region of Woofshire.
The seven puppies found here are in the herding group, such as Sheepdogs and Shepherds.
Upon completing this area, Pumpernickel and Blueberry Bagel are unlocked.
Came from: Perroguay
Next stop: Froslandica
Back to Regions!
Description
Edit
Common Puppies:
Uncommon Puppies:
Rare Puppies
Very Rare Puppies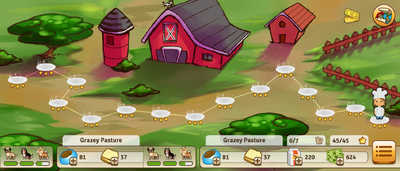 Battle Spots
Edit
This Region has 15 spots where you can bread puppies and earn 1 - 3 stars.
Node
Level
Puppy
Health
1
29
Australian Cattle Dog
5,549
Belgian Sheepdog
10,450
Border Collie
10,450
Old English Sheepdog
6,775
Anatolian Shepherd
5,549
-
-
2
29
Australian Cattle Dog
5,549
Border Collie
10,450
Anatolian Shepherd
5,549
Belgian Sheepdog
10,450
-
-
-
-
3
30
Belgian Sheepdog
10,909
Anatolian Shepherd
5,779
Australian Cattle Dog
5,779
Shetland Sheepdog
10,909
-
-
-
-
4
30
Australian Cattle Dog
5,779
Old English Sheepdog
7,061
Shetland Sheepdog
10,909
-
-
-
-
-
-
5
30
Australian Cattle Dog
5,779
Belgian Sheepdog
10,909
Shetland Sheepdog
10,909
Border Collie
10,909
-
-
-
-
6
31
Border Collie
11,373
Australian Cattle Dog
6,011
Belgian Sheepdog
11,373
Old English Sheepdog
7,351
-
-
-
-
7
31
Australian Cattle Dog
6,011
Anatolian Shepherd
6,011
Old English Sheepdog
7,351
Belgian Sheepdog
11,373
-
-
-
-
8
32
Australian Cattle Dog
6,246
Old English Sheepdog
7,645
Shetland Sheepdog
11,843
Border Collie
11,843
-
-
-
-
9
32
Australian Cattle Dog
6,246
Border Collie
11,843
Belgian Sheepdog
11,843
Shetland Sheepdog
11,843
-
-
-
-
10
32
Australian Cattle Dog
6,246
Old English Sheepdog
7,645
Belgian Sheepdog
11,843
-
-
-
-
-
-
11
33
Shetland Sheepdog
12,318
Belgian Sheepdog
12,318
Anatolian Shepherd
6,484
Australian Cattle Dog
6,484
-
-
-
-
12
33
Belgian Sheepdog
12,318
Border Collie
12,318
Anatolian Shepherd
6,484
Shetland Sheepdog
12,318
-
-
-
-
13
34
Old English Sheepdog
8,242
Anatolian Shepherd
6,723
Border Collie
12,798
Australian Cattle Dog
6,723
Shetland Sheepdog
12,798
-
-
14
34
Belgian Sheepdog
12,798
Australian Cattle Dog
6,723
Old English Sheepdog
8,242
Shetland Sheepdog
12,798
Anatolian Shepherd
6,723
-
-
15
34
Australian Shepherd
22,560 (angry)
11,280 (normal)