Engleville is the eighth region of Woofshire.
The nine breeds found in this region are generally English breeds, as many of their names suggest.
Upon completing this area,  Pork Bun and Tortilla are unlocked.
Came from: Froslandica
Next stop: New Yorkie
Back to Regions!
Description
[
]
Engleville appears to be based on England. It has several buildings, including a clocktower which appears in the backgrounds of some battle spots. It has two intersecting roads, and nice green spaces with bushes and trees.
There are no common puppies to be found in this region.
Uncommon puppies:
Rare puppies:
Very Rare puppies:
Unique puppies: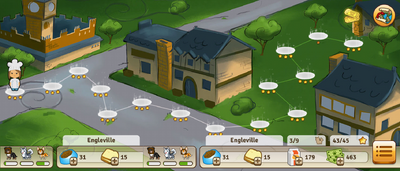 Battle Spots
[
]
This region has 15 spots where you can bread puppies and earn 1-3 stars.
Node
Level
Puppy
Health
1
41
Brittany
18,798
English Setter
16,542
English Spinger Spaniel
18,798
Affenpinscher
12,030
Pointer
14,286
Weimaraner
23,310
-
-
-
-
2
41
Brittany
18,798
Affenpinscher
12,030
Pointer
14,286
English Spinger Spaniel
18,798
Weimaraner
23,310
English Foxhound
12,030
-
-
-
-
3
41
English Spinger Spaniel
18,798
Pointer
14,286
English Setter
16,542
Affenpinscher
12,030
Brittany
18,798
-
-
-
-
-
-
4
42
Brittany
19,395
Pointer
14,733
English Setter
17,064
English Foxhound
12,402
-
-
-
-
-
-
-
-
5
42
English Spinger Spaniel
19,395
Affenpinscher
12,402
Brittany
19,395
Pointer
14,733
AiredaleTerrier
14,733
-
-
-
-
-
-
6
42
Affenpinscher
12,402
Weimaraner
24,055
English Spinger Spaniel
19,395
English Setter
17,064
-
-
-
-
-
-
-
-
7
43
English Spinger Spaniel
19,996
English Foxhound
12,778
Pointer
15,184
Airedale Terrier
15,184
-
-
-
-
-
-
-
-
8
43
Airedale Terrier
15,184
English Setter
17,590
Affenpinscher
12,778
Pointer
15,184
-
-
-
-
-
-
-
-
9
43
Pointer
15,184
Affenpinscher
12,778
Airedale Terrier
15,184
English Spinger Spaniel
19,996
-
-
-
-
-
-
-
-
10
44
Airedale Terrier
15,639
Pointer
15,639
Affenpinscher
13,158
English Setter
18,121
-
-
-
-
-
-
-
-
11
44
Weimaraner
25,566
English Foxhound
13,158
Pointer
15,639
English Setter
18,121
-
-
-
-
-
-
-
-
12
44
Brittany
20,602
Weimaraner
25,566
Pointer
15,639
Affenpinscher
13,158
-
-
-
-
-
-
-
-
13
45
Brittany
21,214
Airedale Terrier
16,098
English Foxhound
13,540
English Setter
18,657
Affenpinscher
13,540
-
-
-
-
-
-
14
45
English Foxhound
13,540
Pointer
15,285
Airedale Terrier
16,098
Weimaraner
26,331
-
-
-
-
-
-
-
-
15
45
Whippet
42,429 (angry)
21,214 (normal)
Trivia
[
]
Gallery
[
]